Everybody today wants to squeeze the best performance out of their PC which is not a bad idea since that's what they are meant to do, perform! A large part of this performance comes from the CPU and since over clocking the processor is the best way to achieve optimum performance its getting widely common these days that people over clock their processors be it a mild over clock or a record breaking frequency, especially since the advent of technologies like turbo boost in from Intel its become a part and parcel of an enthusiast's life.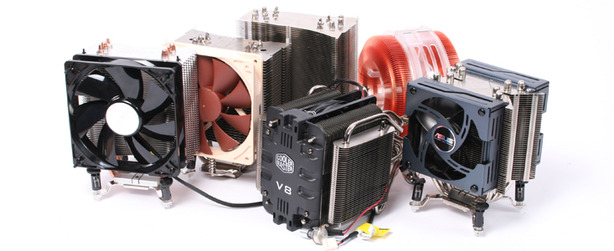 But you cannot and should not over clock your processor without a good and powerful after market air or liquid cooler since doing so guarantees a burnt chip which isn't the case when you use one! Moreover with Intel Skylake processor that don't ship with a stock cooler and beastly processors like the Intel Haswell-E series, i7 4970K and AMD multi core FX giants such as the FX 9590 and FX 8350 coming more and more into main stream the need of a good after market cooler has increased manifold.
But Air cooler or Liquid Cooler which one to buy, is a question many ask me and it becomes all the way more difficult since many of these coolers aren't available in India at all.....So today I bring to you guys a brief list of best Air and Liquid Coolers in every budget segment. As for
which cooling type is better
, well that depends entirely on your case, taste and budget.
Both technologies are subject to compatibility issues, so take measurements and don't be afraid to ask us for advice!
Best Budget CPU Cooler
Air Cooler
Cooler Master Hyper 212 Evo
Available at a price that's nearly one third of what other high end coolers are priced at the
Cooler Master hyper 212 Evo
enjoys not only a price advantage but also performs more than one can expect it to at this price point.
Its four copper pipes contact your CPU's heat spreader directly, drawing thermal energy up into aluminum fins. A 120mm fan blows through the sink and does its job without making a din. The
Hyper 212 EVO
isn't a huge cooler, so it enjoys broad compatibility with all modern sockets and most motherboards.
If you're not planning to do extreme overclocking or just mild overclocking, the Hyper 212 EVO is your best choice for simplicity and low maintenance. There's only one fan, which is easily replaced, and the heatsink itself is easy to clean if you have dust build-up.
Liquid Cooler
Corsair Hydro Series H60
The Hydro Series is immensely popular and respected in the liquid cooler segment especially because of its wide range and availability. The
Corsair H60
is the minimum you require if you intend to over clock your processor and don't be fooled by its pricing, it gets the job done pretty well even on hexa and octa core processors!
The 120mm CLC system is easy to install and is compatible with almost all the processors out there. You can't expect a push and pull configuration out of this but then at this price some trade offs are expected. Best part you can easily install it in every case in the market today.
Best Mid-Range Cooler
Air Cooler
Deepcool Gamer Storm Assassin II
Priced at a lucrative price point and with looks that are one of the best out there the
Deepcool Assassin II
is a cooler to look out for. The cooler features 8 huge heat pipes and two massive cooling towers and comes with one 140mm and one 120mm PWM fan. It has provision for two 120mm or two 140mm fans of your choice so its quite customizable aswell.
It is available in red and black or green and black color options so you can easily match it to your build. The downside is that its massive and you need to make sure that it'll fit in your chassis aswell as is compatible with your RAM modules.
Liquid Cooler
Cooler Master Seidon 240M
The CM Seidon 240mm is the best liquid cooler you can find in under 10K in India. Equipped with a large aluminum radiator and two 120mm fans spinning at max speed of 2500RPM makes this cooler the best deal in this price range.
Even for extreme over clocking at moderate ambient temperatures you can rely on this. On the downside this Cooler can get a bit noisy once set to max and also lacks an illuminated water block or a dedicated software like the Corsair Link available on the Corsair H80i but then the performance of the Seidon 240M is a bit superior though the fans of bling can get the H80i.
Best High End Cooler
Air Cooler
Noctua NH-D15
Noctua's NH-D15 CPU cooler is an impressive beast, packing six aluminum heatpipes leading up to a twin aluminum radiator design with a pair of huge 140mm fans keeping airflow across those radiators constant. Noctua builds its coolers optimized for low noise and low temperatures, so whether you plan to overclock or you just want your PC to run quietly no matter what you're doing with it, this is a solid cooling option. The fans both support PWM, so you can manually control them if you prefer, and airflow across the cooler is enough to keep other components in your computer nice and cool as well as your processor.
Liquid Cooler
Corsair Hydro H110
This is a beast from the house of Corsair, the
Corsair H110
is an improvement over previous generation coolers like the H100 and performs even better than the new H100i
Equipped with a large yet thin 280mm aluminum it exhaust out the hot air through two 140mm fans spinning at a maximum speed of 1500RPM. The pump is silent and efficient and makes almost no noise at all in contrast to the competing coolers.
The Corsair link is absent but the performance is just spectacular. It has an odd 20mm spacing between the fans so make sure your case can hold this unit before buying.
So that winds up my list for the best air and liquid coolers available in India today, over clocking or no over clocking these coolers will keep you covered always. Do leave a comment below if you want to add something to this list or have any doubts regarding anything what so ever.