A lot of you have been asking me lately to review something related to gaming accessories and not to high end PC hardware like a motherboard or PSU etc. So thanks to Cooler Master today I bring to you the CM Storm Octane Gaming Keyboard and Mouse combo!
Not only is it a rarity to find a gaming
keyboard
and
mouse
combo these days but having them feature rich and performance oriented at a price tag that doesn't blow a crater in your pocket is no less than seeing the Haley's comet itself.
Cooler Mater has done a fabulous job by bringing a refreshed version of their old Devastator Gaming combo in the Octane which is a bit highly priced but with the added extras the Octane should be worth it. In my opinion Cooler Master are one of the top dogs, with their CM Storm line offering gamers affordable but decent items allowing us to keep spending money where it matters, on GAMES!
Some of the key specifications of this Combo are as follows:
Packing
The Cooler Master CM Storm Octane comes in a big rectangle purple box and black box with hints of silver that highlight both the Cooler Master and CM Storm logo. The box is solid and stern which insures the safety of the product even during the transit if you are ordering it from an online retail store. Its commendable on part of Cooler Master as it saves their money on fancy packaging and helps them to put it where it truly belongs-- performance and design!
You can get a glimpse of the Keyboard and Mouse itself on the packaging with individual model numbers enlisted along with their exclusive features like
Mouse (MS35)
10 Million – Click Life Cycle
Illumination With On-The-Fly Color Cycling
Seven (7) LED Back-lighting Colors To Choose From
Four (4) Preset DPI Levels (500-3500)
Avago 3050 Optical Sensor
Keyboard (MB7C)
19 – Key Anti Ghosting
Six (6) Dedicated Multimedia Keys
Seven (7) Back-lighting Colors With Quick Cycling And Adjustable Pulsating Speed
Turbo Mode – Quickly Adjust Repeat Rate
On opening the box you find the obvious Keyboard and mouse along with a user manual that gives detailed instructions on how you can use all the features offered by the Octane gaming combo.
Pros:
Durable packing
Gives you all the details from out of the box
Cons:
None
Video review of the Cooler Master CM Storm Octane Gaming Gear Combo
Keyboard: Details and Closer Look
The Keyboard bundled in the CM Storm Octane gaming combo is code names as "MB7C" and has a very aggressive and edgy look to it making it look like a weapon from the Terminator series. As it is a budget keyboard so there are, of course, necessary trade-offs that come into play.
Instead of mechanical switches, you'll get a membrane keyboard, and you'll also miss out on some of the other luxuries like braided cable, per-key illumination, and dedicated macro keys.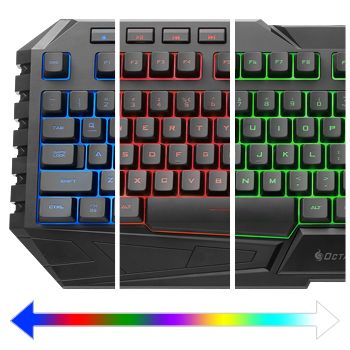 But all those thing hardly had any hindrance in performance infact I noticed some very unique features that I personally loved. The space bar at the bottom is at an angle and adds a dimension to the basic design of the key layout. The seven color LED can be switched by the push of a button from one to another in a pre-defined pattern.
The CM Storm Octane keyboard features 19-key anti-ghosting technology, which allows the keyboard to register each keystroke accurately without having to worry about lost key presses when actuating multiple keys at the same time. You also have the option to change the repeat rate of the keyboard, which determines how many times a key stroke is registered when pushing the key all the way down. The keys are quite grippy thanks to the matte coating and the whole thing looks rather bulky and somewhat like the CM HAF series cabinets. On the top left of the keyboard you've got 4 dedicated media keys, which are stop, play/pause, back and forward. On the top right you've got 2 keys which are volume up and down, nice and simple.
One of the cooler features on the CM Storm Octane keyboard is the inclusion of a 'privacy' key that, when activated, disables all keyboard input. This novel feature is especially useful for those with kids, and will come in handy when you wipe down your keyboard. Adjustable brightness of the LED is a definitely an added feature that comes in handy at time.
The bottom is plastic and has a mesh finish maintaining the aggressive feel of the keyboard so kudos to Cooler Master for not leaving any stone unturned literally! The four rubber legs give enough friction to the keyboard to avoid slipping and sliding while long typing or gaming sessions. In the top end two legs are available to raise the height to an angle for comfortable typing though traction is a bit reduced in this way.
Pros:
Solid and attractive build quality
Dedicated Multimedia keys
Matte coating makes the keys non slippery and typing is a breeze
Lots of locking options
Breathing mode makes it look really premium
Cons:
Edges are a bit sharp, this could've been avoided
Unlike the mouse it doesn't retain the LED color and brightness settings chosen by the user once shut off.
Mouse: Looks and Features
The mouse is called "MS35" and is made out of hard plastic which doesn't look cheap at all rather gives a very sturdy and solid appeal to the whole device. It comes with six buttons and a scroll wheel along with a pair of LED lights that look like the eyes of a transformer or rather a Decepticon!
If we look at it closely we observe that the wheel is having a textured rubber strip and is lit pearl white by a permanent lit LED which doesn't change color. The two arrow shaped buttons are meant for changing DPI from 500 to 3500 and for changing the color of the two eye shaped LEDs below respectively. Left and right click are textured to increase grip followed by two more button on the side that are for forward and backward actions in browsers and can be customized in game as per the user's desire. There is no rubberized grip on the sides which I felt should've been there to give it a more premium finish and of course better grip.
We can also see the USB cable 1.9m, which is an un-braided cable unfortunately, but we can't win 'em all. It feels like it's meant to be an all round mouse for the masses, average size and weight, nothing out of the ordinary with a preference for Claw grip.
Bottom area houses the the Avago 3050 Optical Sensor in the center. This Sensor has 4 different preset DPI levels (500, 1000, 2000, 3500). And is complimented by three Teflon glides, two at the top area and one at the bottom. A chuncky CM Storm logo is present on a disk that doesn't seem to come off and was supposed to add some additional weight to the mouse which never materialized and hence remains as a designing flaw.
If you take a look at the Octane mouse from the front you are greeted by two pepper pot grill styled vents that are illuminated by white LEDs and make it look like a Lamborghini Aventador! This is really cool and even illuminated the mousepad underneath giving one the idea of where the mouse is positioned exactly even in a dark room.
Pros:
Designed for every size of hand not too big not too small, just the right size
Seven LED colors are a welcome move
Retains the DPI and color settings even when turned off
Front white LEDs look extremely premium
Good quality finish
Cons:
Mouse wheel has only one color
Build quality is a bit flimsy
No lights to indicate the current DPI level, one has to hit and trail to figure it out.
Performance
I used the Cooler Master CM Storm Octane Gaming combo along with the
CM Storm Swift-RX
mousepad on a variety of games ranging from some of my personal favorites FPS like Crysis 3 and COD Advance warfare to RPG like Command and Conquer: Kane's Wrath and even games like Mortal Kombat X.
The Keyboard registered all my key strokes during my extensive Mortal Kombat X gameplay aswell as during the various combos that I used in CnC Kane's Wrath. The anti-ghosting feature worked like a charm and I never once felt any laggy response time or delay with the keyboard. The mouse on the other hand felt as light as feather and slid like ice on the microscopic cloth surface of the Swift-RX and sniper shots in game never felt this easy especially on a mouse at this price point.I did not have any issues with tracking, pretty much was always on target when I was not getting killed. The scroll wheel is responsive and not super-fast like some other mice, there are pretty distinctive clicks when you use the scroll wheel.
The CM Storm Octane combo has been one of the best combo packages I have tested and the price of the bundle makes it great for anyone starting to get into PC gaming.
My Verdict
I guess the title for this review is fitting as "But For The Price…." encapsulates the essence I feel towards these two products. No matter what a device offers, but it eventually all comes down to whether the asking price justifies the product, and in this case I feel it does. Besides the obvious allusion to cars and transformers, the aesthetic is safely "aggressive", if a little cliched–aka a safe design. The products do have some welcomed features for the price point but they do succumb to cutting some corners with build quality–especially the mouse–"But For The Price" you really are just getting a taste of some gaming features, like extra mouse buttons, DPI shifting or multi-coloured lighting, while still being perfectly adequate budget peripherals.
I highly recommend the Cooler Master CM Storm Octane Gaming Combo to any gamer, Photoshop enthusiast or even a studio owner who is a bit on budget or getting his first ever 'quality' keyboard mouse combo. At just around $59 its a steal deal which you surely don't wanna miss upon.
I give it
9/10