A computer cabinet is not just a box that will sit in a corner but its the only part of your gaming or office setup that will stay with you for a long time taking care of all the components that you house inside it. The frame you choose decides what components will actually fit inside. It affects how easy your system will be to build, how air will flow across your components, and how your computer will fit into your gaming setup. PC chassis come in a variety of sizes, from miniscule Mini-ITX systems meant to sit on your desk, to massive full towers designed for maximum expandability.
So with that in mind to day I've compiled a list of all the great quality cabinets you can buy in India as many big brands don't ship or retail in India foreign sites render useless many a times.
Some of these are my personal favorites either reviewed by me or built gaming rigs into by one of my friends or just on basis of popular reviews on various e-commerce sites.
The Budget Segment
Cooler Master HAF 912 Advanced
Cooler Master is famous for its cabinet line-up and the HAF has been a legendary series in the computing world and the name is well justified by the CM HAF 912 Advanced.
Built as solid as a tank with a mesh design and equipped with removal dust filters make it a clean choice for India where dust poses a major issue. Its design is not loud and yet not too dull, just perfect.
Has two USB 3.0 slotss and 8 expansion slots so that you can go up to quad
SLI/CrossFire
setups, solid number of HDD/SSD cases and yes the room for two 120mm fans in front or a single 200mm fan makes it a cooling machine even at high temperatures with no dust all thanks to the dust filters pre-installed. Did I mention that you even install two 120mm water cooling radiators making it the ultimate gaming case in this segment!
Corsair SPEC-03
The SPEC-03 is the top line offering in the SPEC series by corsair and comes with all the bells and whistles one can ask for including a transparent side panel for those who like to show off their hardware.
Key features include room for the longest graphic cards available, 7 expansion slot for tri
SLI/CrossFire
setups, two USB 3.0 ports and a front 140mm fan which is a delight and keeps your system temperatures well below the red line. Cable management and all is excellent and build quality superb.
So if you are on a budget the Corsair SPEC-03 should be your pick.
NZXT Phantom 410
NZXT makes some very solid cases and the Phantom 410 is a very good, feature-packed mid-tower chassis. The frame, like many of NZXT's cases, is very reminiscent of Alienware, with a bit of the company's own personal flair making the design unmistakable even from afar.
The Phantom 410 is an affordable mid-tower that is just a few inches shy of a full-tower dimensions, comes with an adjustable rear fan set on slits rather screw holes, integrated fan controller, rubber grommets, and an almost completely tool-less design; altogether this makes the 410 an accessible case for first time builders. At the same time, experienced builders can take advantage of the ample clearance for a 240mm top radiator.
The Mid-range Segment
Corsair Graphite 760T
Transparent side panels are quite in demand these days and the Corsair Graphite 760T represents the inevitable evolution of this trend. Rather than having a traditional side panel made of metal or plastic, the 760T's flanks are made almost entirely out of transparent polycarbonate. Looks aside, its a huge full tower case with nine expansion slots for quadruple SLI or three cards taking up three slot with plenty of room to spare for water cooling.
The Graphite 760T offers a great variety of options and combinations, allowing each end user to find their desired balance between thermal performance, acoustics, and cost,It is aesthetically attractive without being too aggressive, offers good stock thermal performance without being too noisy, and is very versatile without being too expensive.
Cooler Master HAF X
Liquid cooling is nice and efficient but if you want a simple air cooled computer look no further than Cooler Master's HAF X case. You can fit some massive fans inside the HAF X including one 230mm fan on the front as well as two 200mm fans up on top and another one on the side. Larger fans, of course, can help push more air without needing to wind up to full speed and produce more noise. The HAF X is also a very beefy full tower case with nine expansion slots and tons of room for storage including two hotswap bays.
And, of course, you can still install a closed-loop liquid cooling system if you fancy. The HAF X isn't the sleekest case around, but it's an old standby: rugged, versatile, and spacious. It has a 5 star review average on Newegg with over 1300 reviews for good reason.
Corsair Vengeance C70
This is a personal pick because I actually use a Corsair Vengeance C70 case for my own gaming rig. It's an olive green, fully metal case that's very reminiscent of an ammo box. The side panels are secured by snapping latches. This military motif also extends to the reset button which is hidden behind a sort of missile launch cover.
Aesthetics aside, the C70 is a very practical case with dust filters for every inlet and outlet where you can possibly install a fan this ensures a clean interior and zero hindrance in air flow, this is the only cabinet offering this facility in this segment. Even with the system fully loaded there's still headroom to install a liquid cooling system with push-pull fans. Corsair call this chassis a mid-tower but it definitely errs towards being a full-size computer tower.
Cooler Master HAF Stacker 935
If the HAF X isn't enough room to grow in, there's also Cooler Master's HAF Stacker system. As the name implies, you can just keep on building on top or even bottom of your computer by buying more modules.
For example, you could build your PC in the main case and then stick the water cooling reservoir in the smaller 915R unit sitting on top or just put a 915F at the top and bottom to house the radiators and even separate
PSUs
for extra power! There's also the
915F module
, which can house a completely separate Mini-ITX system.
The High-end Segment
NZXT Phantom 820
The NZXT Phantom 820 is essentially the Phantom 410's bigger, full tower brother. Everything about the 820 is bumped up with more hard drive caddies, expansions slots—and just overall, a ton more room.
Liquid cooling enthusiasts will also like this case because it supports a top 360mm radiator as well as a bottom 280mm radiator. For even more cooling the case can also be equipped with an additional 140mm rear fan and three 200mm fans. This cabinet has everything that you can as for but then this is the segment when even a little less is not acceptable.
Thermaltake Level 10 GT
A few years ago Thermaltake came out with a revolutionary Level 10 case that separated every component into its own compartment to individually cool parts. The Level 10 GT is a consumer-oriented, slightly less insanely priced, extension of the original Level 10's philosophy. The unique design isn't just for looks, as it also affords some very good heat management while making it quieter to boot.
The Level 10 GT incorporates all the enthusiast wants; hot swap, large fans with removable dust filters, maximum cable routing, and a sleek black paint job inside and out. The biggest reason for the Level 10 GT making to the list is its non enormous size which is not very common in this realm of price tags without compromising on functions.
Corsair Obsidian 900D
Speaking of top-of-the-line builds, the
Corsair Obsidian Series 900D
is a giant PC case ready to house the biggest of builds. Standing in at just a little over two feet, this "super tower" features an extra compartment at its base for a massive water cooling block,
dual PSUs
, or 12 additional storage drives.
Users can also pack in an absurd number of liquid cooling reservoirs with room for a 360mm block on the front and top of this frame. The only issue comes up when you need to move this behemoth around the room especially when fully loaded!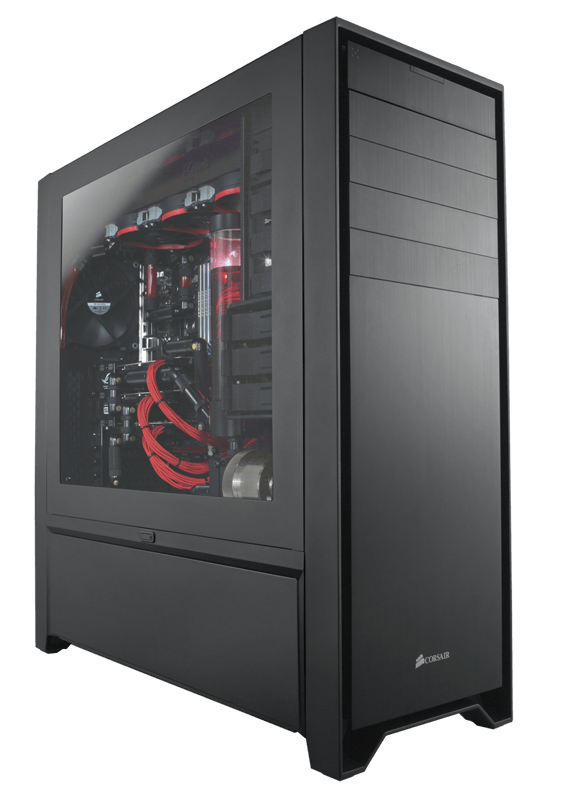 What couldn't you do given all this room? The modular drive racks gives you the freedom to configure your system any way you like without sacrificing the total amount of hard drives you can have in your system. Want to improve airflow from the front of your case to your GPUs? Simply place all three drive racks in the bottom of your case. Want room in the bottom of your case for a massive 480mm radiator with eight 120mm fans installed? Relocate the drive cages to the front of your system. Need more drive space? You can add two more drive racks to the mix for a total of 15 drives.
Cooler Master Cosmos II
As a direct competitor to Corsair's Obsidian Series 900D, the Cosmos is a massive ultra tower that weighs in at 47.3-pounds—and that's just the weight of the case by itself. Like the 900D, this case also features a separate bottom compartment in which users can fit the longest of power supplies as well as six additional storage drives.
The main compartment will take practically anything you throw at it with room for a XL-ATX motherboard and 11 expansion slots, which is more than enough for a quad
Nvidia SLI or AMD Crossfire setup
.
The cavernous interior leaves plenty of room for all your high-powered components, and with plenty of support for both air- and water-cooling setups, you'll be able to keep even the hottest rig chilly.
So these are the best of the best cases available for grab in India today and each has something unique to offer than another. Just pick your budget and choose a cabinet from the list without giving it any second thoughts. Also you might want to read
the best cabinets under Rs. 5000
and
How you can choose the best cabinet guides
.