There are many times when your Graphic Card keeps behaving in a weird manner either by crashing all the time or at least during a particular application like a game or a software. Here is a guide to help you diagnose and check your Graphic Card for errors and solve your problem accordingly.
NOTE: Before proceeding it is highly advisable that you create a System Restore Point.
Choose "Start" > "All Programs" > "Accessories" > "System Tools" > "System Restore." Select "Create restore point" and hit "Next."
Describe the restore point in the box provided and choose "Create." A restore point allows you to go back and restore your computer to a state before you began making changes. It is basically a large "undo" button.
1 – Update the Driver
This should be your first step towards solving this issue. Update your Graphic Card driver to the latest one from the manufacturer's website like from that of nVidia or AMD. New drivers solve many bugs and issues regarding a particular software etc. Be aware that new drivers work best when you have uninstalled your previous driver so remove your old driver by going to "Add/Remove Programs" and selecting the driver.
2 – Try another or Older Driver
Sometimes it could be simply a faulty or buggy driver. Even the latest drivers can contain bugs or at least not support a particular software especially when you have an old Graphic Card, so it is important to simply try another driver. The problem is that the related manufacturer's websites provide you with the latest drives so you cannot get an old driver from there until you have a CD/DVD of the same so visit
Guru 3d
. It contains a good repository of old archived drivers download the older version, remove the new one and install it.
3 – Benchmark your card
Sometime a game itself is full of coding errors and 'buggy' programmings, to test this and see if its the program thats faulty and not your Graphic Card we recommend a stress test. A benchmark to try is
Furmark
. Its a software that creates the same environment and stress that comes into play while running a graphic intensive application like a high-end PC game. Download, install and run Furmark.
A window would appear asking you to configure your test, leave everything to default and just click on the full screen option along with the resolution that you plan to run your game on, click"burn in test". A giant doughnut would appear and start spinning representing that the test is running in full glory. Keep it running for atleast 15mins while keeping an eye at the bottom of the screen for the temperature readings, don't let it cross the 95°C mark or you may end up burning your card. If temperatures are high then stop the test by pressing "Esc". Keep an eye on the doughnut itself too, if the colors don't seem right or you get dotted images flashing on the screen then you may be getting "artefact" shown below: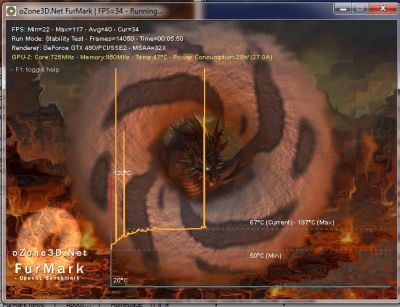 Artefacts simply means that your Graphic Card has failed and strong chances are there that it needs a repalcement. If after 15 minutes everything looks OK, then your card has passed the Furmark test, stop the test again by pressing "Esc".
4 –The Temperature factor
Many a times the prime reason for such problems is the heating up of the Graphic Card due to high loads and extensive processing. Check your
CPU temperature
and see if its not too hot like around the 80-90°C mark. If yes shut down your system let it cool down in a couple of minutes and restart it to see if the problem is solved or not. Try considering to install a better cooling system in future to prevent such incidents from taking place.
5 –Format the Computer
If all fails then it can be a faulty coding in the program that is running or any of the programs in the background that may be interfering with the running of the other. A possible solution to this is to make a backup of your important files in the C-Drive like My docs and My pictures and format your system.
Re-install Windows
and just install the Graphic driver and the Program that you want to run. If things go well this time then it is imminent that the problem was caused due to another interfering program. Try running the Furmark benchmark once again now and if you pass that even then reconsider installing ever old program as anyone of them could be the reason.
6 – The Last Resort: Try another Graphic Card
If all the above don't work for you then you'll have to get another Graphic Card. Try borrowing it from a friend just to see if it works or get a new and obviously better one this time.
Congratulations, you have now run all the possible simple tests you can on your graphics card and hopefully you will now have some insight as to why your custom built PC or even a Branded PC is not performing as it should be.
NOTE:
Sound issues are often confused with video card issues when a user is having problems while playing computer games. Disable your sound while playing the game and see if you still have problems. If not, the sound hardware is the culprit.
So this was all that i can tell you for now, if you have any more ways that are better than this one please feel free to suggest them. As always do leave a comment below or a query if you have any.